Rental Assistance Program
The Religious Coalition and Frederick County Government are partnering to provide rental and utility assistance to those impacted directly or indirectly by COVID-19.
If you have experienced a financial hardship due to COVID 19 and are behind on your rent and/or utilities, The Religious Coalition may be able to help you.
Funding is limited and not every household will receive assistance.
For those without access to the web, please call 1-800-220-9528.  Email COVIDhelp@rcehn.org with questions and assistance.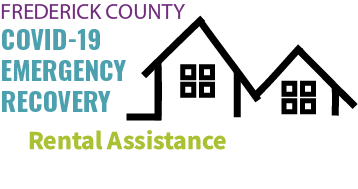 To be eligible:
You must be renting in Frederick County

You must have lost income or experienced a financial hardship due to or indirectly related to COVID-19

Household income must be at or below 80% of area median income
*Income is based on 2020 or current income.
**Household income must be at or below 80% of area median income
Required Documentation:
Copy of your current lease or rental agreement signed by your landlord

Proof of ALL income in the house (2020 W-2 or Tax returns preferred. Pay stubs, Unemployment benefits, Bank statements showing direct deposits, SSI or SSDI statements also accepted).

Proof of COVID related hardship

Proof of unemployment claim or award letter
Letter from employer( furlough letter, details of reduction in hours etc.)
Proof of reduction in childcare due to COVID from daycare provider or children's school
Proof of positive illness or quarantine or isolation order due to COVID (ex. discharge note from hospital, doctors confirmation)
Paystubs showing reduction in hours/pay (multiple paystubs required including a pre-COVID paystub)

Letter of delinquency or rental ledger which details the month and amounts behind on rent

Proof of delinquency of utility and home energy costs (electricity, gas, water and sewer, trash removal, etc.)
** Written attestation may be accepted in lieu of documentation
Rental and
Utility

Assistance Application
Application deadline will be extended until further notice.
This program is being supported, in whole or in part, by federal award number ERA0244, awarded to Frederick County, MD by the U.S. Department of the Treasury.
For More Information
View and download our COVID-19 Emergency Rental Assistance Program flyer.  The flyer was updated on April 27, 2021

Special thanks to Spanish Speaking Community of Maryland, Inc. for providing Spanish language support to the Spanish speaking community.
If you are not eligible for this program, call 301-631-2670, or email info@rcehn.org with questions about applying for other emergency assistance that may be available.