Rental Assistance Program
Is it hard to pay your rent?
Apply for Emergency Rental and Utility Assistance Today!
If you need assistance to pay your rent or utility bills, you may be eligible for Emergency Rental Assistance.
Frederick County Government and The Religious Coalition for Human Needs are working with renters who need help.
For those without access to the web, please call 1-800-220-9528.  Email COVIDhelp@rcehn.org with questions and assistance.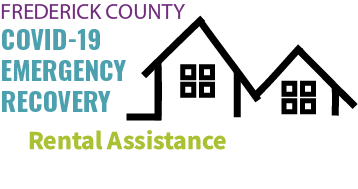 Rental and
Utility

Assistance Application
This project is being supported in whole or in part by federal award number ERA0244 awarded to Frederick County Government by the U.S. Treasury.
For More Information
View and download our COVID-19 Emergency Rental Assistance Program flyer.

Special thanks to Spanish Speaking Community of Maryland, Inc. for providing Spanish language support to the Spanish speaking community.
If you are not eligible for this program, call 301-631-2670, or email info@rcehn.org with questions about applying for other emergency assistance that may be available.